Zareba Offers High Tensile Fencing to Safely Contain Livestock
Lititz, Pa. October 2011 — Woodstream Corporation, a global manufacturer of animal control products including Fi-Shock and Zareba brand of electronic containment systems that provide safe, economical alternatives to barbed wire fencing, now offers high tensile fencing to safely contain livestock, while keeping unwanted predators, deer or other wild animals out. This affordable electric fencing is easy to maintain and can last more than 40 years.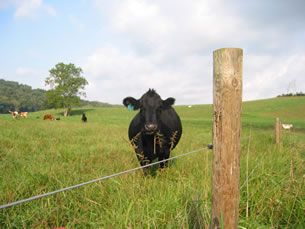 Zareba's high tensile fencing can be used as either a simple barrier fence or an electrified fence for greater effectiveness and animal safety. Its rugged and reliable components are designed to withstand harsh environments as well as 200,000 lbs/sq. inch of livestock pressure.
With the largest selection of high tensile tools and accessories in the industry, including corner braces, insulators, spacers, splicers, fence tensioners and a variety of dependable and durable tools to help build the fence, Zareba provides the proper tools and quality materials to build a successful electric containment system.
By logging on to www.zarebasystems.com and choosing the high tensile video link, users can learn how to properly design and build their own high tensile electric fencing system that will safely contain animals for a number of years.
Andrea Itnyre, category development associate for the electronic containment division of Woodstream, noted, "Research has shown that the amount of pre-planning a customer does correlates directly to the success of their fence installation as well as the fence's long term operation. With that in mind, we provide not only the best physical tools, such as the components, wire and posts, but the most advanced planning tools as well. Our online installation videos and web-based fence planner are perfect examples."
Users can configure an extremely accurate fencing system by choosing the Fence Planner link on the Zareba website. This innovative guide, powered by Google Maps, allows users to design their fencing system using satellite technology, making configuring a fence quick, easy and more convenient. Customers can also shop online for all of their high tensile fence needs.
For high res download and full text:
http://www.simongroup.com/PressRoom/press-release.php?Job=WOD-A-15060
Subscribe to Woodstream's RSS feed: http://feeds.feedburner.com/woodstream

Follow us on Twitter: http://twitter.com/ZarebaSystems

Become a fan at http://www.facebook.com/ZarebaSystems

Reader Service Inquiries: Andrea Itnyre; Woodstream Corporation; 69 North Locust Street, Lititz, Pa. 17543; aitnyre@woodstream.com; 717-626-2125, ext. 464.