Ceramic Insulators vs. Porcelain Insulators: Which is Best?
What exactly are the differences between ceramic and porcelain insulators? At first glance, they appear to be the same baked clay material, but they are not. In reality, there are some major variations between the two, which include cost of production, the temperature at which these materials are produced and their ultimate durability in the field.
Ceramic vs. Porcelain Electric Fence Insulators: At a Glance
Ceramic Insulators
Ceramic is made of red, brown or white porous clay. Once it's shaped, it is fired between 2,100° to 2,300° Fahrenheit. Ceramic is less expensive to produce than porcelain.
If the ceramic is glazed, as Zareba® insulators are, the glaze is only baked into the top layer.
Ceramic insulators from Zareba® will see a long life of use on your electric fence. While they are tough, they may break easier and may become brittle in extreme cold weather.
Porcelain Insulators
Porcelain is made from a refined, white clay called kaolin and is fired at temperatures as high as 2,600° Fahrenheit. It is sometimes referred to as "China," because the manufacturing process was developed centuries ago in that country.
Porcelain also has a solid color throughout, usually white. Porcelain is denser and less absorbent than ceramic, so it can easily withstand moisture and harsher weather conditions. Because of the cost of materials and an intensive manufacturing process, porcelain is more expensive to produce.
To most people, the term porcelain often signifies high-quality ceramics.
Thanks to porcelain's durability, Zareba® and Fi-Shock® porcelain insulators have a lifetime guarantee against typical wear and tear. Porcelain insulators are ideal for use on fences that see a lot of stress and strain, such as those that face extreme cold temperatures or pressure from aggressive animals.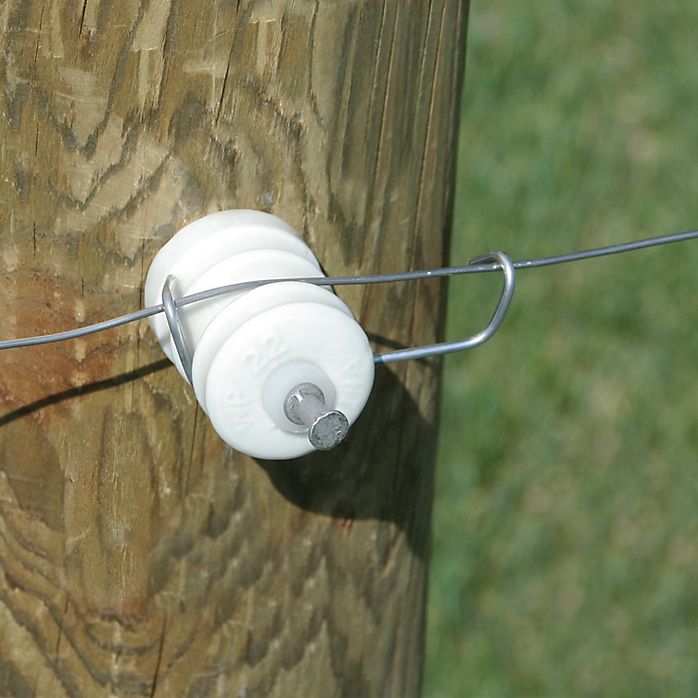 Attaching Electric Fencing to Grooved Insulators
When attaching fence line to insulators that only have grooves (rather than built-in clips or loops), you will also need a supply of Multi-Groove Spacer Clips. These clips hook over one side of your fence line, wrap around the insulator on the opposite side of the line and are then secured back on the line with the 3-Hole Wire Twisting Tool.
With the spacer clips installed, the fence line is held firmly against the insulator, while still having the capability to shift as needed. The clips allow the fence line to withstand contraction and expansion pressure brought on by temperature changes, as well as occasional stress from intrusion by animals or other objects.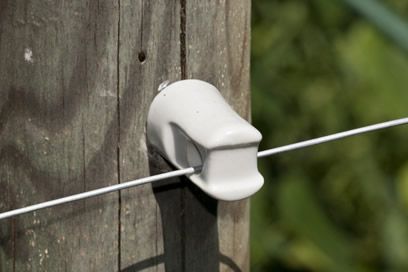 Benefits of Ceramic and Porcelain Insulators
Zareba® ceramic and porcelain insulators are designed to hold electrified wire near fence posts without losing energy through the post. They also have higher insulating properties than plastic insulators and will not break down due to sun damage. When properly installed, these insulators will support your fence for years. Available for in line and corner posts, porcelain and ceramic insulators can handle any size fence wire including high tensile wire, polywire and polyrope.
Several of the insulators also have built-in lag screws that allow you to quickly install them on your existing wood fence posts. Once they're screwed into place, just thread your line through their loops for a secure hold.
More Help with Your Electric Fence
Still have questions about your electric fence or its installation? Try calling the Zareba® Consumer Care Team at 1(855)5-ZAREBA. You can also explore the extensive catalog of electric fencing articles from Zareba®, including:
Looking for even more from Zareba®? Subscribe to the eNewsletter for useful product announcements and additional fencing and livestock advice from Zareba®.