Electric fencing can be effective to help contain any pet, including dogs. To do so, utilize chain link fencing to provide the primary barrier. From there, a line of electric fencing attached to it will provide the right deterrent to correct the animal and keep it away from the primary fencing.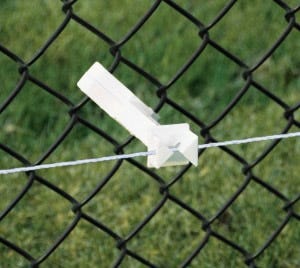 This specialized electric fence line doesn't electrify the chain link fence. Instead, special insulators hold the hot wire away from the chain link. As with any animal, the hot wire should be positioned at your pet's head or nose height. This is the height that the pet will most likely encounter the hot wire.
Creating a Fence for a Dog or Other Pets
Electric fencing is a psychological, not a physical, barrier. The goal is to keep the animal away from the fence at any height. Chain link insulators extend away from a fence so a well-trained animal will not test the fence at that distance. As a result, your pets will not climb the fence or try to dig under it. This is also effective to keep pets away from an old or "weathered" fence.
If you have an animal that's a regular digger, then a second hot wire should be attached close to the ground (3 to 6 inches above) to correct that behavior. Remember to keep grass and weeds off your hot electric fence lines to ensure most effective shock.
Important Pet & Dog Fence Components
For proper operation, an electric fence requires a few components:
Setting Up Your Electric Pet Fence
Once you have your fence components on site, you may still have questions. Feel free to reach out to the Zareba® Customer Care Team at 855-5-ZAREBA.
Also be sure to check out these helpful articles:
Finally, remember to subscribe to the Zareba® eNewsletter for a deal on your first order from ZarebaSystems.com, followed by regular emails with money-saving coupon codes on future purchases.