Smart Fencing Tech: An Evolution in Electric Fencing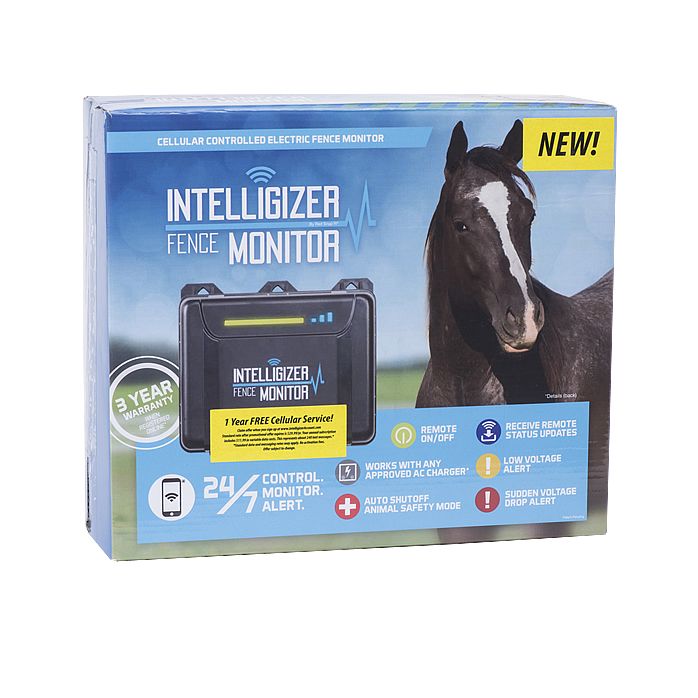 Remote sensing, cellular technology give fence managers ability to monitor fences from anywhere
Today, technology in nearly every industry is advancing at an exponential rate and things are no different on the farm and ranch front. Want to keep track of your grazing? There's an app for that. Need to monitor water levels in your stock tanks that are miles away? Satellite radio has you covered. Wondering where ol' Bessie is on the range? Throw a GPS sensor on the old girl and send out your drone for a quick cow check. You can even monitor livestock health with new "smart ear tags" which sense changes in cattle body temperature and movement.
Remote sensing technologies have in short time become the new norm in agriculture, making farm management easier and more efficient than ever. Likewise, in electric fencing, new remote monitoring systems have been developed to help farmers, ranchers, and horse owners monitor fences more closely while saving time and energy. Electric fence managers can now have peace of mind with the 24/7 monitoring capabilities and quick alerts this new technology provides.
What Smart Fencing Tech Does
"Smart fencing" technology uses remote sensing and cellular SMS technology with existing AC energizers to provide real-time alerts about changes in fence power and voltage. Whether dealing with a downed branch or broken insulators, electric fence monitoring systems, such as Zareba® System's Intelligizer Fence Monitor, protect fences by detecting drops in voltage and power loss. Users are notified via text alert within seconds when voltage drops below a preset level. And, the Intelligizer's ability to program an auto shutoff safety mode ensures animals are safe.
In addition to the monitoring and safety benefits, some smart fencing models also come equipped with perks like remote on/off features. For example, by sending a simple text, farmers can effortlessly turn Zareba's Intelligizer on or off to repair fences fast and easily.
Three distinct smart fencing systems are currently available on the market today. These include the Intelligizer Fence Monitor by Zareba®, the Fence-Alarm from Farm Alert, and Gallagher's iSeries Fence Energizer Systems, which does not feature cellular technology, only local system communication. Each device is equipped to send notifications of low voltage and sudden voltage drops, as well as power loss alerts and remote status updates. However, each model is not created equal. Check out the comparison chart below to see the major differences in the different brands mentioned earlier.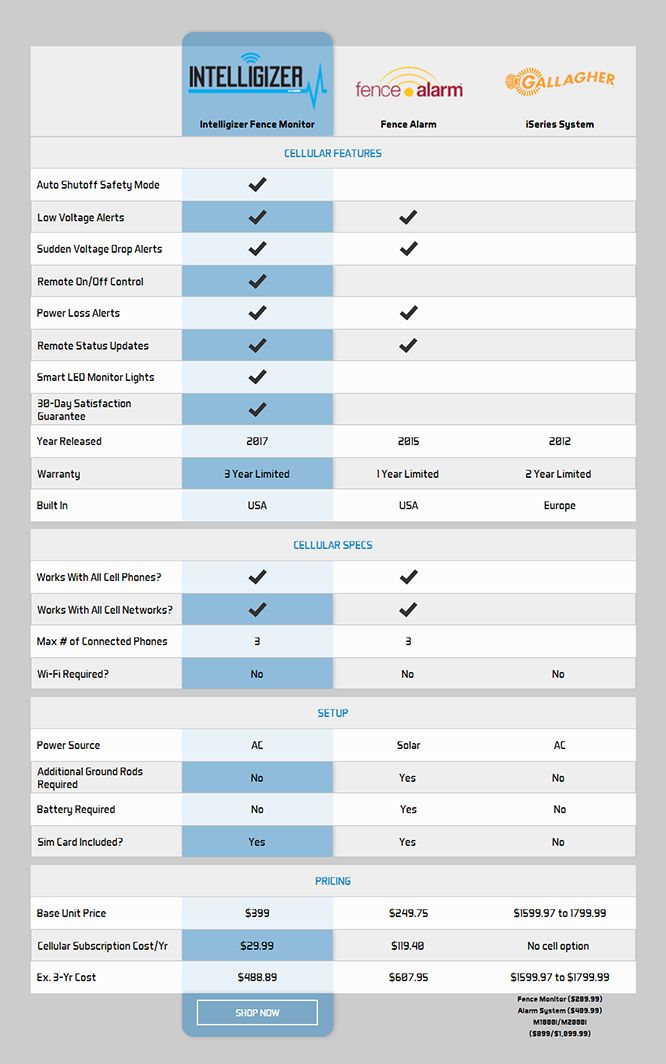 How Smart Fencing Tech Can Help You
So why use smart fencing technology? For starters, it's relatively simple to install. Just hook up the fence monitor to your existing AC charger and in a few steps you're on your way. Some models may require additional equipment such as ground rods, a battery, or SIM Card to make the monitor fully capable. Additionally, smart fencing systems are compatible with a variety of cellular providers and devices. Some even offer the capability for multiple users to receive text alerts. Consult our comparison guide to determine which model works best for your particular situation.
Along with its ease of use and wide functionality, smart fencing systems offer users such as livestock producers, horse owners, and small acreage farmers reassurance unlike any other electric fencing accessory can on the market today. The ability to know the exact moment when fence problems arise empowers animal owners to protect their investments in a better way. Repairs are made more swiftly, animals are safer and more secure, and in the end, fence managers are able to work smarter, which means more time to focus on the things that matter.
For more information on the Zareba's smart fencing system which includes the Intelligizer Fence Monitor visit www.zarebasystems.com/intelligizer.