ElectroBraid® Electric Fencing
As low as
$209.99
Regular Price
$262.99
ElectroBraid® Electric Fencing
73
4.9
5
1
Earn 4180 rewards points on your purchase! Learn More
1,000 Feet of fence line - Choose checkered, black or white
Double helix copper conductor design
Braided polyester fiber jacket and polypropylene core
Made from UV resistant materials
Meets high standards established for seat belts & parachute harnesses
25 insulators per bag
ElectroBraid® Is America's #1 Horse Fence - Safe, Secure and Simple to install
Service Experts Available To Answer Your Installation Questions
Best Used For



ElectroBraid® Electric Fencing Line
ElectroBraid® is a permanent electric fence line designed especially for horses. It serves as a physical barrier and as a psychological deterrent. It keeps horses away from fencing, prevents them from leaning on it and chewing on it. You can install ElectroBraid® with wood fence posts or T-posts, or as a complement to vinyl fences. ElectroBraid® is SAFE, SECURE and SIMPLE.
ElectroBraid® is durable, resilient and backed by an exclusive 25-year limited warranty. This fence line has been safety tested and is recommended for use with horses by equine veterinarians. Each reel carries 1,000 feet of fence line, which is available in checkered, black or white designs. ElectroBraid® features a double helix copper design that includes a braided, UV-resistant polyester fiber jacket over a polypropylene core.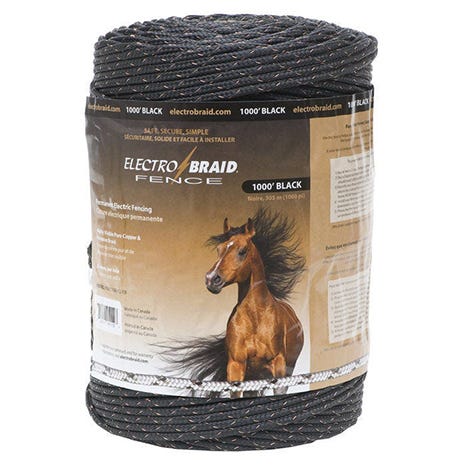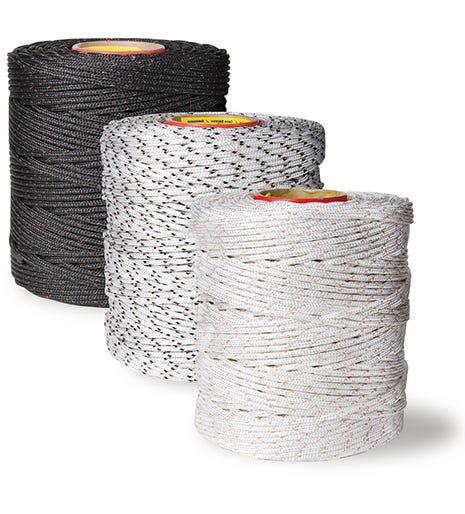 What is ElectroBraid®?
ElectroBraid® looks like high-quality braided yachting rope with a ¼-inch thickness. Though soft to the touch, ElectroBraid features a double helix of copper wire conductors that has been braided into the outer jacket of the rope, which allows it to conduct electricity. With this innovative construction, your fence line is far safer than nearly any other type of fencing for horses. It stretches, rather than breaks, when horses test it, which keeps the animals inside the fence boundaries.
Create an effective, attractive and easy-to-maintain fence by attaching 3 or 4 strands of ElectroBraid® to fence posts spaced 30 to 50 feet apart (compared to conventional horse fences like wire which require a post every 8 or 10 feet). Fence posts can be wood, vinyl or steel, and ElectroBraid® is available in white, black or black/white checkered.
ElectroBraid® Keeps Horses Safe
The most frequent cause of serious horse injuries is collision with a rigid fence. ElectroBraid® designed its fencing to minimize this danger. As a result, ElectroBraid® line is the most recommended horse fence for safety by equine veterinarians.
No impact injuries
No sharp points, hard edges, or wires that can cut or puncture
Specially engineered to break if a horse gets caught around one ElectroBraid® strand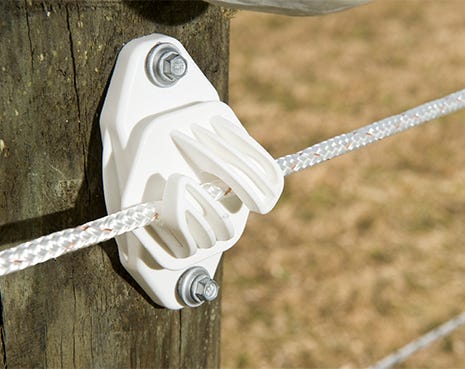 ElectroBraid® Close-Up
ElectroBraid® takes all the best aspects of other fencing types and adapts them for use with horses. The result? A better fence for horses.
¼ inch line is easy for horses to see and avoid.
Fencing absorbs impact and pushes horses back.
Copper strands conduct electricity four times faster than steel.
Coiled conductor strands reduce breakage from weather and stress.
Wide profile limits the line's ability to cut into the horse.
Physical & Psychological Barrier
Unlike rigid fences, ElectroBraid® is forgiving. It has the resilience and the strength to resist the impact of a galloping stallion. It just stretches, and then springs back, "bouncing" the horse back into the enclosed area, much like what happens to a boxer in the ring. Horses also learn to respect the electric shock delivered by an ElectroBraid® fence system and will not go near the fence after receiving that first shock. While harmless, the brief shock is painful and deters horses from wanting to jump over, rub against or chew on the fence.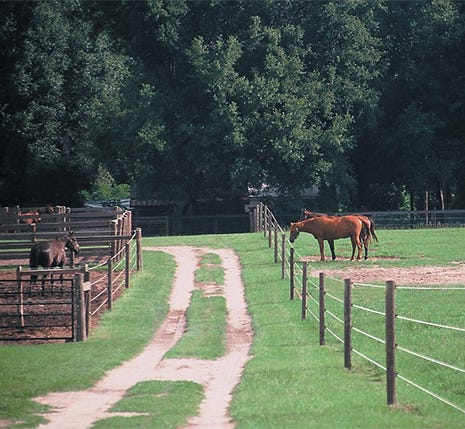 How to Install ElectroBraid®
ElectroBraid® can be self-installed easily with hand-tools, by almost anyone – It's like stringing clothes line. A professional fence installer is not required. Fence posts can be set 30 to 50 feet apart depending on terrain and are tensioned to avoid sagging over time. By contrast, conventional horse fences like wire require a post every 8 or 10 feet. To relocate your ElectroBraid® fence, you don't need a contractor, either – just move your posts and restring.
ELECTROBRAID® 1,000 FOOT REEL ELECTRIC FENCING LINE
Model #
PBRC1000B2-EBC
Line Length
1,000 ft (305m)
Line Thickness
1/4 inch (6.3mm)
Materials
Polyester, polypropylene, copper
Product Features

Braided polyester fiber jacket
Polypropylene core
Checkered design is highly visible
UV-resistant
Copper conductor strands conductivity exceeds stainless steel wire, mixed-metal wire and steel wire.
FREE: Electric Fence Warning Sign

Precautions

Use in conjunction with at least a 2-joule energizer.
Check fence voltage regularly with a digital volt meter. Voltage should read between 5,000 and 9,000 volts.
Never leave horses in a de-powered electric fence.
Install according to installation manual.
Is there a way to connect the copper wire to a steel gate handle?
Question by: Michele on Mar 2, 2021, 7:00 PM
We recommend using our PARS-EB to tie off the rope on one of our Zareba gate handles.
Answer by: Woodstream (Admin) on Mar 9, 2021, 7:00 PM
I found an old reel in the barn that is dirty but should work fine. Is there any way to clean it?
Question by: Kristen on Dec 27, 2018, 7:00 PM
To clean the braid, it can be soaked in mild dish detergent and water. This should be done while the braid is not connected to a charger.
Answer by: Woodstream (Admin) on Dec 30, 2018, 7:00 PM
what is the joules per meter?
Question by: Karina on Mar 13, 2017, 8:00 PM
The power and joule rating seen on a fence line will be determined by the energizer used. Many factors such as type of wire, length of fence, grounding, etc, will also affect the amount of voltage seen on a fence line.
Answer by: Woodstream (Admin) on Mar 15, 2017, 8:00 PM
What;s the difference between the white, blcak and checkered other than the colors. I ask because it seems as thought there is a price difference at my local Tractor Supply..
Question by: Douglas Mundrick on May 11, 2021, 8:00 PM
Only difference is the color.
Answer by: Woodstream (Admin) on May 12, 2021, 8:00 PM
How does this work for other animals that can be pastured with horses?
Question by: Marlee on Oct 12, 2020, 8:00 PM
While designed for horses, this fencing system is effective for other animals as well.
Answer by: Woodstream (Admin) on Oct 13, 2020, 8:00 PM