ElectroBraid® Fence Now Available Exclusively through Woodstream's Distribution Network
Lititz, Pa. February 2012 – Woodstream Corporation, a global manufacturer of animal control products including FiShock and Zareba brand of electronic containment systems that provide safe, economical alternatives to barbed wire fencing, is now the exclusive worldwide provider of Nova Scotia-based ElectroBraid Fence, the number one electric horse fence in North America.


Andrea Itnyre, Category Development Associate at Woodstream, said, "ElectroBraid is an excellent addition to our fence offering. Recognized by prominent equine veterinarians around the world as one of the safest horse fences, ElectroBraid is the perfect complement to our existing fencing line. Combined Woodstream's brands of Zareba, Fi-Shock, Red Snap'r, Blitzer and Rutland electric fence, we are truly the leading supplier in electric horse fencing."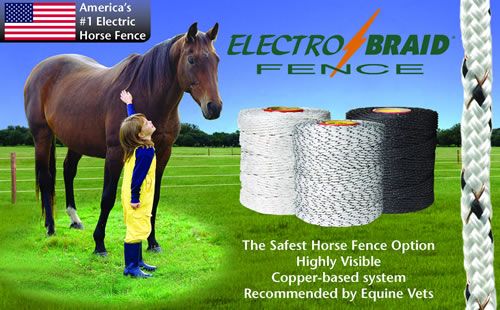 ElectroBraid is an easily installed, permanent electric fencing system designed to provide safe and secure fencing for horses. The company's core product is a patented, polyester rope braided with a double helix of copper wire conductors. The high-grade polyester fiber is the same type used in seatbelts and parachute harnesses and can easily withstand ultraviolet light, salt, tension and most farm chemicals. Over time, the copper used in the rope develops an oxidized outer layer that protects the wire from corrosion.

ElectroBraid is a highly-visible electric fencing system that is both a physical and psychological deterrent to horses. This energized, durable fence delivers a mild corrective shock to horses that come in contact with it, helping to break bad habits. The fence also protects against unwanted intruders.

ElectroBraid can be used as a permanent perimeter fence or moved around for rotational grazing. It can also be used as a portable temporary fence for sheep, cattle and other livestock.

Considered one of the safest fences on the market, ElectroBraid offers a limited safety warranty against horses getting injured while being contained by the fence. The company also offers a 25-year warranty against rust, rot, UV, weathering or breakage during normal fence usage with an entire ElectroBraid system.
ElectroBraid will be offered for sale on
www.zarebasystems.com
in the near future. Currently, ElectroBraid items can be purchased by calling 1-855-EBFENCE, and details can be found on
electrobraid.com
.
For high res download and full text: