ElectroBraid Offers 25 Year Product Performance Warranty
LITITZ, Pa., Mar. 27, 2014 -- Woodstream Corporation, a global manufacturer of animal control products and electronic containment systems that provide safe, economical alternatives to barbed wire fencing, offers a 25 year limited product performance warranty on its ElectroBraid products.
Guaranteed not to rust, rot, lose strength due to sunlight or weathering, break when installed as a permanent fence or prove defective in workmanship or material, Woodstream's ElectroBraid products are backed by one of the best warranties in the industry.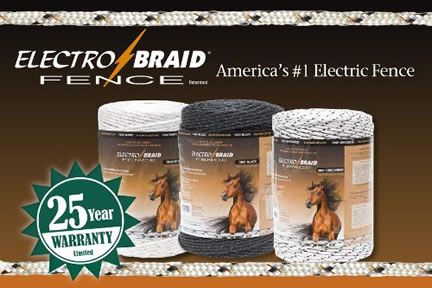 Andrea Itnyre, Category Segment Specialist, ElectroBraid said, "Our 25 year limited product performance warranty covers any reel of ElectroBraid that is defective. We will replace it at no charge to the customer. Our warranty is good for 25 years from the date of purchase."
The warranty does not cover products that have been damaged by lightning strikes, burning or melting, mechanical shearing or cutting, abrasion due to poor installation, breaking due to excess mechanical force or breaks in conductor wires. It also does not cover wear and tear from fence relocation or rotational grazing.
The 25 year limited warranty is only given to the original purchaser of the product and not to any subsequent owners. Owners should keep the original receipt from purchase should it be needed to verify the warranty in the future.
ElectroBraid is the #1 electric horse fence in North America and considered the safest fence on the market by top veterinarians.
By logging onto http://www.electrobraid.com/sample/, Woodstream is offering a free ElectroBraid sample pack with information DVD, braid samples, brochure and planning guide.
For more information contact Andrea Itnyre at aitnyre@woodstream.com or 717-626-2125, ext. 464.
For high res download and full text: http://www.simongroup.com/PressRoom/press-release.php?Job=WOD-A-15115
Read our news: http://feeds.feedburner.com/woodstream
Follow us on Twitter: http://twitter.com/ZarebaSystems
Become a fan at http://www.facebook.com/ZarebaSystems