Electric Horse Fence Installation and Planning
Take the time to plan – Proper electric horse fence installation begins before you drive the first post. The secret to getting the best value for your dollar is to take the time to thoroughly plan and then construct. Check Local Laws and Ordinances: Laws governing placement of fences and electric fencing vary from county to county. Questions such as: "How far must a fence be from a roadway?" "Can an electric fence be used in a suburban area?" and "Are warning signs required?" must be answered.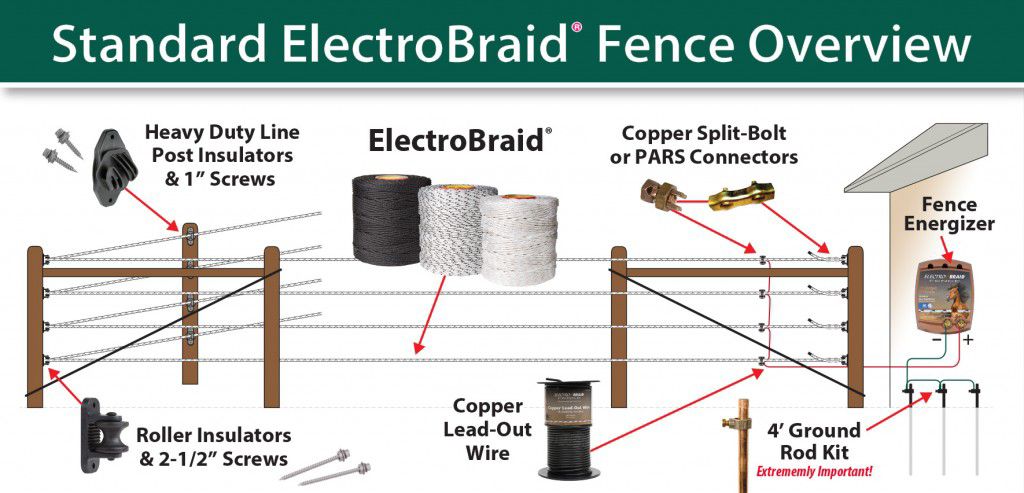 How to Install ElectroBraid® – (12:30)
ElectroBraid® electric horse fence systems install quickly with minimal standard tools. Our installation video can walk you through the steps, while our Installation Manual can serve as a quick reference when out in the field.
Tips for small paddocks, medium and large pasture fencing
Setting up ground posts and electric fence line spacing
Using roller insulators and connecting ElectroBraid® lines
How to tighten your electric horse fence
How to Install the Grounding Rod System – (5:30)
How to Test Your Electric Horse Fence – (1:13)
TIP: Test after rain when conditions are wet to determine if there are any electrical shorts. Shorts are more easily detected in wet conditions.
TIP: Test when conditions are very dry to confirm that you have adequate grounding. In particular, test where the fence runs over high terrain or through areas that might be especially dry or have sandy, clay or rocky soil.
Learn more about the redesigned ElectroBraid voltmeter.
Troubleshooting ElectroBraid® Electric Horse Fence – (4:12)
If you find your horses are showing less respect for their fence than normal, it is very likely something is reducing the voltage on your fence, or the grounding of the fence is not what it should be.
Check all electrical connections to ensure they are secure.
Check that the ground rod clamps are secure and connector wire is intact.
Walk the horse fence line to ensure nothing has happened to cause the fence to short out.
Are your horses standing on ground that is so dry or frozen that they are insulated
and prevented from getting a shock? Is this a general problem, or is it localized?
Learn more about the ElectroBraid voltmeter.
Fence Training Your Horses
Article: Fence Training – Introducing Your Horses to Electric Fencing
More Information:
Give us a call 1-855-EB FENCE (1-855-323-3623), or download our FREE ElectroBraid® Video and Installation Manual, for more information on horse fencing configurations, combination horse fence designs or other special considerations.