OUR BRANDS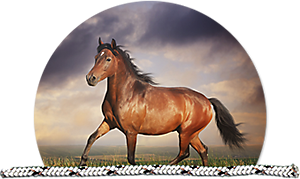 ElectroBraid® Electric Horse Fence
ElectroBraid® is the number one choice in electric fencing for horses across the globe. With its unique brand of electric fencing that is trusted by horse owners, the ElectroBraid® product line focuses on electric chargers, highly visible polyrope and specially designed fencepost insulators.
Shop Reels »
Shop Chargers »
Shop Insulators »
Shop Accessories »
Shop Exclusive Bundles »
Put ElectroBraid® on Your Property
If you want to provide the safest fencing for your horse, you can count on ElectroBraid®. At ElectroBraid®, understanding horses and how they interact with fencing has helped the company develop the best possible product. Further, ElectroBraid® stands behind its electric fencing products, all of which are produced with quality and durability in mind. In fact, ElectroBraid® offers these four promises to horse owners:
Trust ElectroBraid® – With so much variation in how an electric fence can be assembled, it's important to provide a selection of products to match those needs. That's why ElectroBraid® offers so many options – to help you assemble a fence to cover any terrain for your horses.
Come to ElectroBraid® for Help – ElectroBraid® is ready to assist you with any questions you may have while installing or performing maintenance on your horse fence. ElectroBraid® and Zareba® have developed a number of resources for this, including the electric fence Learning Center and YouTube videos. Another option is to visit the Zareba® Facebook page and sign up for the eNewsletter to get tips and exclusive information! Even the Zareba® Consumer Care Associates are ready to help you with your fence questions!
ElectroBraid® Meets Your Needs – ElectroBraid® is all about providing options to horse owners. Since individual horses, terrain and other concerns may require a unique approach to assembling an electric fence, ElectroBraid® has focused on developing a wide selection of products to meet those needs. The variety of ElectroBraid® products helps you build a fence to keep your horses safe, secure and happy.
ElectroBraid® Has an Eye on the Future – ElectroBraid® has been a force of innovation for horse owners since its inception which focused on a unique polybraid design. It continues that core mission of serving horse owners today, and you can turn to ElectroBraid® for the latest technology advances in electric fencing for horses.