OUR BRANDS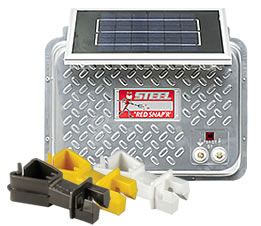 Red Snap'r® Electric Fence Chargers and Electric Fence Accessories
In 1952, Red Snap'r® developed the first plastic insulator for electric fencing, since that time consumers across the continent have come to rely on Red Snap'r® for its quality fencing products at fantastic prices. Red Snap'r® electric chargers and fence insulators are perfect for any fencing situation – from farms and pet enclosures to securing a garden from invading wildlife.
Shop Red Snap'r® Chargers »
Shop Red Snap'r® Insulators »
Why You Can Rely on Red Snap'r®
Red Snap'r® has provided electric fence chargers and insulators to the livestock industry, hobby farms and homeowners since the 1950s. They all have come to rely on the quality products and unmatched customer service Red Snap'r® has delivered for decades. To maintain that reputation, Red Snap'r® remains focused on its four core values: Read More »
Offer a Broad Selection of Products –If you are looking for assistance while installing or maintaining your electric fence, Red Snap'r® is on the job! Red Snap'r®, along with its sister brands, offers multiple resources to assist consumers. Check out the electric fencing Learning Center, watch useful videos on YouTube, explore the posts on the Hobby Farm Blog, dial up our dedicated Consumer Care Team, visit the Zareba® brand family on Facebook and subscribe to the E-Newsletter for special deals.
Provide Expertise and Support – Electric fences can be built upon an incredible variety of posts. Red Snap'r® insulators are meant to serve all those options while also allowing for wire, polywire and polyrope hookups. Once your fence is in place, Red Snap'r® also has a wide selection of solar, AC and DC fence chargers to power your line.
Focus on Quality Products – Look to Red Snap'r® for the highest quality fence chargers and electric fence insulators. Red Snap'r® is so confident in its products that it backs them with a worry-free shopping policy. Additionally, Red Snap'r® fence chargers are eligible for extended warranties when properly registered.
Continue to Innovate – Red Snap'r® first entered the marketplace with its innovative electric fence insulators. Count on Red Snap'r® to continue its legacy of innovative animal control and electric fencing products in the years to come. Red Snap'r® develops every product with the safety of you, your animals and your property in mind.
« Show Less