Zareba® 6 Volt 10 Mile Solar Energizer Replacement Battery - 1-Pack - All Questions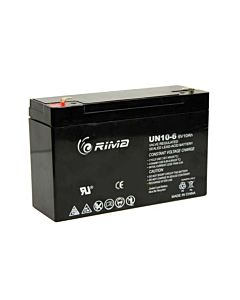 Zareba® 6 Volt 10 Mile Solar Energizer Replacement Battery - 1-Pack
I have an old Zareba LIS3 solar fencer that no longer is putting out any juice. I'm assuming the battery is just no longer able to hold a charge. Which battery would I purchase as a replacement?
Thanks,
Marshall
Question by: Marshall Kohr on Sep 18, 2019, 8:00 PM
We recommend our 4 Volt Solar Replacement Battery, model ASB2-2.
Answer by: Woodstream (Admin) on Sep 19, 2019, 8:00 PM
We replaced the battery in our charger today. The red light flickers on and off but we don't have a charge. Does the battery need charging or is it fully charged when you buy them? Thanks.
Question by: C&J on Feb 23, 2020, 7:00 PM
We recommend allowing the battery to charge before putting the unit into use since the battery may not be full depending upon how long it was in inventory.
Answer by: Woodstream (Admin) on Feb 24, 2020, 7:00 PM
I see that this battery is recommended for the ESP10M charger. I have an ESP10M-Z charger. Will this battery still work well or is another battery recommended?
Question by: David on May 26, 2022, 9:28 PM
Yes, this battery will work for the ESP10M-Z charger.
Answer by: Rachel Faust on May 27, 2022, 8:38 AM