Zareba® T-Post Top Insulator - All Questions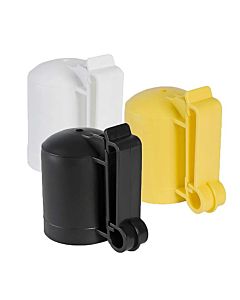 Zareba® T-Post Top Insulator
The photo shows the round wire section of the cap on the same side as the "knobby" side of the T post. Does it indeed sit on the post that way? I'd like to see a picture of the bottom of the cap so I can tell which way it will face on my T posts. Thanks
Question by: Tracey Erway on Oct 13, 2021, 4:44 AM
The insulator sits on the t-post as shown in the image.
Answer by: Kathryn Tator on Oct 13, 2021, 8:54 AM
Will these fit in either direction? Meaning can I install them facing outwards AND inwards on the tposts?
Question by: ChrisBR on Nov 20, 2021, 3:19 PM
These insulators can be installed both forwards and backwards on a T-Post.
Answer by: Lauren Steiner on Nov 22, 2021, 9:12 AM