Zareba® 15 Mile Battery Operated Low Impedance Fence Charger - 1-Pack
Zareba® 15 Mile Battery Operated Low Impedance Fence Charger - 1-Pack
2
5
5
1
Earn 3680 rewards points on your purchase! Learn More
Controls most types of animals
Medium weed conditions
For controlling horses, pigs, cows and pets
12-Volt battery with pulsed DC output (1-second intervals)
Indicator light showing fence controller is working
Zareba® 15 Mile Battery Operated Electric Fence Charger
Use the Zareba® 15 Mile Battery Operated Low Electric Charger to control the horses, cattle, and other small livestock in your pastures. Even under heavy weed conditions, this battery-powered energizer delivers shocking power to all types of fence lines, including high tensile, polywire and polytape. Over other, similar low impedance energizes, the EDC15M-Z has a 25% longer battery life. Since it doesn't need an electrical connection, this Zareba® charger is ideal for remote locations.
The EDC15M-Z features digital timing to provide a safe and effective high-voltage shock during normal usage hours. Its simple indicator light shows when the fence charger is on and working. This DC charger is built to UL safety specifications.
15 Mile DC Charger At A Glance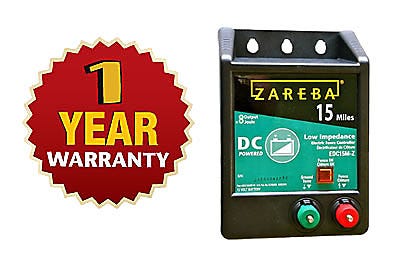 Under optimal conditions, energizes up to 15 miles of fence
Distance Rating for Steel Wire: 15 miles (no weeds), 7.5 miles (light weeds), 3 miles (heavy weeds)
Distance Rating for Poly Wire: 7.5 miles (no weeds), 3 miles (light weeds), 1.5 miles (heavy weeds)
For use in heavy vegetation conditions
Ideal for remote fence lines
DC power, 12-volt battery (not included), .8 joule output, low impedance
Operates electric fencing, including high tensile steel or aluminum wire, polywire, polyrope and polytape
Controls many types of livestock, including horses, cattle, pigs and pets
Use it to keep out wildlife, including rabbits, skunks, woodchucks and raccoons
Pulse indicator light shows charger is in operation
Output Voltage: 9.7KV
12 Volt battery operation
Digital timing
Durable cabinet protects the circuitry from weather extremes
Register within 30 days of purchase to activate 1-year limited warranty for ultimate peace of mind
Built in USA
Animals Controlled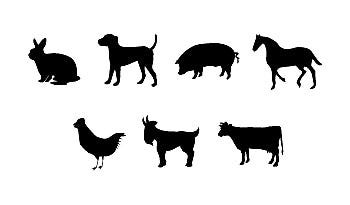 DC Charger Installation Guide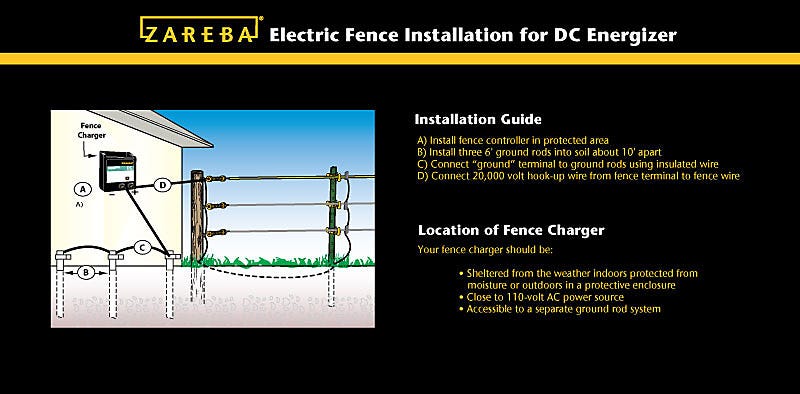 Zareba® is the largest manufacturer of electric fence systems offering durable, reliable electric fence products for all of your animal fencing needs.

WARNING: This product can expose you to chemicals including lead and lead compounds, which are known to the State of California to cause birth defects or other reproductive harm. For more information go to www.P65Warnings.ca.govwww.P65Warnings.ca.gov.
Zareba® 15 Mile Battery Operated Low Impedance Energizer
Model #
EDC15M-Z
Power Source
Battery
Distance Rating
15 miles
Customer Reviews
0%
of customers
recommend this product