Zareba Systems Triples Long-range Energizer Warranty
New technology reduces lightning damage, helps extend warranty


LITITZ, Pa., April 4, 2011 /PRNewswire/ -- Woodstream Corporation, a global manufacturer of animal control products including FiShock and Zareba brand of electronic containment systems that provide safe, economical alternatives to barbed wire fencing, has tripled its warranty to three years on its Zareba brand energizers with a mile rating over 50 miles.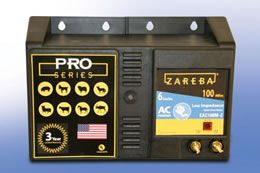 With new technology that reduces the threat of lightning damage, Zareba's Pro Series energizers are even more reliable and backed by one of the best warranties in the industry.
"Our extended warranty gives customers extra peace of mind knowing that, if for some reason, the equipment they purchased is faulty or lightning strikes, they are covered," says Josh Elliott, category development associate, electronic containment division. "Customers should register their energizer online at www.zarebasystems.com immediately after purchase to get the best warranty possible for their system."

The warranty, which covers Zareba's Red Snap'r, Blitzer and other energizers, protects against defects in materials, workmanship and damage caused by lightning.

Different warranties are available for the full range of energizers, based on mile ratings and proof of purchase. A 12 month warranty is offered for energizers with a mile rating less than 20 miles, while a 24 month warranty is available for energizers with a mile rating over 20 miles.

"Zareba has been manufacturing energizers for more than 50 years," says Alan Johnson, account development manager. "We are constantly working to develop new, safer technology that generates more power. Our new warranty reassures customers that they are purchasing an energizer that has the highest level of power and research behind it."

For high res download and full text:
http://www.simongroup.com/PressRoom/press-release.php?Job=WOD-A-15068

For more news releases: http://www.simongroup.com/PressRoom/woodstream.php

Subscribe to Woodstream's RSS feed: http://feeds.feedburner.com/woodstream

Follow us on Twitter: http://twitter.com/ZarebaSystems

Become a fan at http://www.facebook.com/ZarebaSystems

Reader Service Inquiries: Andrea Itnyre; Woodstream Corporation; 69 North Locust Street, Lititz, Pa. 17543; aitnyre@woodstream.com; 717-626-2125, ext. 464.