ElectroBraid® Heavy-Duty Insulator Screw - 1-Pack
ElectroBraid® Heavy-Duty Insulator Screw - 1-Pack
3
5
5
1
Earn 360 rewards points on your purchase! Learn More
2.5 in galvanized heavy-duty screw
Part of the complete ElectroBraid Horse Fence System
May be used independently with various insulators
ElectroBraid® is Americas #1 Horse Fence - Safe, Secure and Simple to install
ElectroBraid® Heavy-Duty Insulator Screws, 2.5 Inch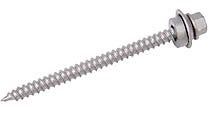 One-inch ElectroBraid® heavy-duty insulator screws provide years of dependable outdoor use.
High-quality, heavy-duty construction
Galvanized for rust resistance
Perfect for securely attaching insulators to line posts
May be used independently with various insulators
50 per package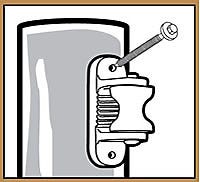 These heavy-duty screws are ideal for use with ElectroBraid® Heavy Duty Roller Insulators and are designed as part of the dependable ElectroBraid® horse fence system.
Extras won't go to waste
These galvanized screws are useful for any outdoor application, so you can easily put any leftovers to use around home and farm.
There's a reason ElectroBraid® is America's #1 Horse Fence
Even the smallest ElectroBraid® fencing components are made for convenience, performance and durability. That's the peace of mind that comes from choosing the ElectroBraid® fencing system. Use ElectroBraid® as a permanent perimeter fence or a movable fence for rotational grazing. ElectroBraid® is SAFE, SECURE and SIMPLE.

WARNING: This product can expose you to chemicals including lead and lead compounds, which are known to the State of California to cause birth defects or other reproductive harm. For more information go to www.P65Warnings.ca.govwww.P65Warnings.ca.gov.
Electrobraid® Heavy-Duty Insulator Screw, 2-1/2 Inch
Model #
AS25-EB
Material
Galvanized Metal
Quantity
50
Your Heavy Duty Black Line Post Insulators specify a 1-inch hex head screw. Do you sell those?

Question by: Darrell Dodds on Aug 22, 2021, 8:00 PM
We do not carry 1-inch heavy-duty screws.
Answer by: Woodstream (Admin) on Aug 23, 2021, 8:00 PM
Why can't you use nails instead of the screws? Would be much cheaper.
Question by: Den on Feb 28, 2020, 7:00 PM
The insulators these are designed to be used with may be put under significant pressure; which screws are better able to withstand and maintain their integrity.
Answer by: Woodstream (Admin) on Mar 1, 2020, 7:00 PM