ElectroBraid® Warranty Information
25 Year Limited Product Performance Warranty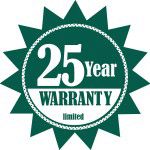 ElectroBraid® Braid™ will not rust, rot, lose strength due to sunlight or weathering, break when installed as a permanent fence or prove defective in workmanship or material. Any reel of ElectroBraid® Braid™ that is defective will be replaced at no charge to the purchaser. This ElectroBraid® warranty is in effect for 25 years from the date of purchase.
Limitations: This warranty does not cover ElectroBraid® Braid™ that has been damaged by lightning strike, burning or melting, mechanical shearing or cutting, abrasion due to poor installation, breaking due to excess mechanical force, or breaks in conductor wires or wear and tear from fence relocation or rotational grazing. In no event shall ElectroBraid be liable for consequential or incidental damages of any kind, including personal injuries
For any ElectroBraid® Braid, retain your receipt for proof of purchase. To obtain performance under this warranty: upon discovery of an apparent defect, promptly notify Woodstream Corporation (1-855-EBFENCE). Include with your notification at least 12 feet of ElectroBraid® Braid, showing the apparent defect along with your proof of purchase.

30-Day Return Policy
We value our relationship with you and offer a return policy for most products that you purchase directly from ZarebaSystems.com. If for any reason you are dissatisfied with your merchandise, you may return it within 30 days of receipt for a replacement or refund of your full merchandise cost, less shipping and handling. It's part of our worry-free shopping policy! Please note our Restocking Fees: Unless the product is defective or the return is a direct result of a Woodstream Corp. error, a restocking fee of 15% will be charged on all return merchandise.
Returned products should be in their original condition and packaging and be shipped pre-paid to Woodstream Corporation, ZarebaSystems.com parent company. Specific items may have additional warranty limitations. In some cases, a small re-stocking fee may be charged. We can only refund shipping costs if your return is due to any of the following reasons:
We sent the incorrect item(s)
Item(s) arrived damaged
Item(s) did not work because of a manufacturing defect
Contact Us
Call: 1-855-EB FENCE (1-855-323-3623)

Email: info@electrobraid.com
Return Procedure
Contact our Consumer Care department via email or phone at 1-855-5-Zareba – (1-855-592-7322) to request a Return Goods Authorization (RGA) prior to making a return. You will be given an RGA number, which must accompany the item(s) being returned. All product being returned to our warehouse must be authorized and reference an RGA # on the return packing list. We reserve the right to refuse any return that has not been authorized.
Please do not attempt to make a return without getting an RGA first!
Packaging Your Return
Please fill out the RGA information, include the original packing slip with your return, and wrap the package securely.
Affix the return label onto the package.
Write your assigned RGA# in the space provided. For your protection, we recommend that you use UPS or Insured Parcel.
Terms Applicable to both the 30-Day Return Policy and the 25 Year Limited Warranty
Neither the 30-Day Return Policy nor the Limited Warranty applies to any defect caused by improper installation, misuse, product alterations, tampering, neglect, or any similar reason not related to product malfunctions or defects in the materials or workmanship of the product. The 30-Day Return Policy and the 25 Year Limited Warranty are given only to the original purchaser of the product and not to any subsequent owners or to any other user or person when installed and used in accordance with the instructions found in the owner's manual. No person is authorized to grant any warranty additional to or different from this written warranty.
To make a warranty claim, you must contact Woodstream Corp. at 1-855-EBFENCE or Online regarding the defective product during the warranty period.
You will need to provide:
Your name
Mailing address
Proof of your purchase date
Photos
Description of the problem.
If the defect is covered by the limited warranty, Woodstream Corp. will replace the defective product.
Neither the seller nor the manufacturer shall have any liability for any incidental or consequential damages resulting from or caused by any defect, failure, or malfunction of any product.
Upon expiration of the 30-Day Return Policy, no warranty or guarantee other than the Limited Warranty provided herein is made, either expresses or implied. Implied warranties of merchantability and fitness for a particular purpose, which may arise at law, are hereby expressly disclaimed unless state law precludes disclaiming them in which case they are limited in duration to the limited warranty period.
Some states do not allow limitations on the duration of implied warranties, exclusion, or limitation of incidental or consequential damages for certain purchasers, so the above exclusions or limitations may not apply to you. This limited warranty gives you specific legal rights, and you may have other rights which vary from state to state.
ElectroBraid® Fence Privacy Policy
Our Pledge
We fully understand the importance of online privacy and electronic security. As we build our relationship with you, we want you to know that your trust is a valuable asset to us. We have taken several steps to ensure your online interaction with us occurs within a secure and private environment.

Privacy Policy
We respect your privacy! Information collected through ElectroBraid.com will be exclusively used by us (Woodstream Corporation) for the sole purpose of product and/or service evaluation and improvement. Any consumer demographic information collected is considered confidential and will not be sold to, or exchanged with, any 3rd parties. (User supplied information, such as product reviews, product questions and image/video uploads may be used on other website properties owned by Woodstream Corporation at our discretion.)

Cookies
Like many companies, we sometimes use "cookie" technology on our web site. These cookies are stored on your computer by your browser. When you log in, this type of cookie tells us whether you've visited us before or are a new visitor. The cookie doesn't obtain any personal information about you or provide us with any way to contact you, and the cookie doesn't extract any information from your computer. We do use the cookie to help us identify site features in which you have the greatest interest, so that we can provide more of what you may want.

Sharing of Information
We do not sell, rent, or share any customer information that we collect on our web site. Any user uploaded information, such as product reviews or user uploaded images may be shared across websites owned by Woodstream Corporation.

Email
We believe that your email address is private information and as stated under Personal Information, you have our assurance that we do not rent or sell your email address to anyone. We use your email address to send you order-related emails, like shipping confirmations. If you have opted in to our website's eNewsletter, you may also receive marketing emails.

At any time, you may opt out from any or ALL our eNewsletters by selecting 'Unsubscribe' from any email you've received from us.

If you have any questions regarding our privacy statement or policies, please contact our Privacy Policy Administrator at consumercare@woodstream.com

WoodStream Corp, 69 N. Locust Street, Lititz, PA 17543
Please contact Woodstream Corp. for all warranty claims or returns.