ZAREBA BRINGS NEW TECHNOLOGY TO YOUR ELECTRIC FENCE WITH RELEASE OF INTELLIGIZER FENCE MONITOR
Lititz, Pennsylvania - June, 15, 2017 - Knowing animals are safe and secure is a comfort to any livestock or horse owner. Up until recently, however, having the ability to be informed of problems at the moment they occur without seeing it happen in person was next to impossible. Zareba Systems turns the tide on this situation and allows farmers to manage fences smarter with the release of the new Intelligizer Fence Monitor.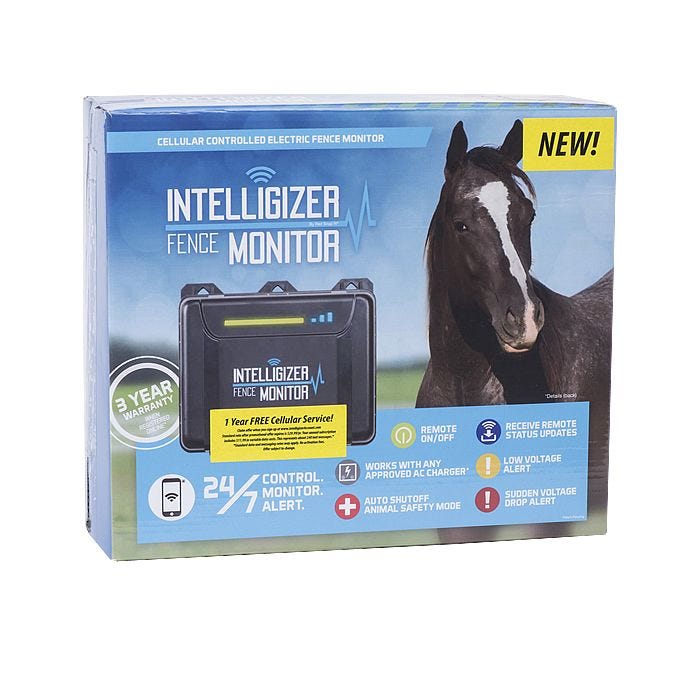 The Intelligizer Fence Monitor is a cellular-controlled electric fencing monitor which works with any existing AC fence charger to provide real-time alerts about changes in fence power and voltage. Ranchers, horse owners, and small-acreage farmers alike can now have peace of mind thanks to the 24/7 monitoring and quick text alerts the Intelligizer sends out when fence problems arise.
"It notified me when I had an insulator off and the wire was touching the fence," says Mitchel M., a horse owner and Intelligizer user in Colorado. "It did exactly as promised."
Whether experiencing an unexpected drop in voltage or power loss, contending with issues like branches or weeds causing a short, or dealing with broken insulators grounding out the fence, the Intelligizer has fences protected. With the Intelligizer, users are notified within seconds when fence line voltage drops below a preset level. Plus, an automatic shutoff safety feature ensures animals are unharmed.
"This system is a great insurance policy for the safety of your animals," says Bob G., an Intelligizer user and dairy farmer in Pennsylvania.
Along with the monitoring and safety features, the Intelligizer also allows farmers to effortlessly turn electric fences on and off or check on a fence's status by sending a simple text from their phone. This ability means no more countless trips back and forth to the charger during repairs and more time free to spend on more important matters.
The Intelligizer Fence Monitor features an easy installation and setup. What is more, the device's built-in SIM card works with any cell phone and wireless carrier, performing best in areas with good cellular coverage. Additionally, users can pair up to three phones per monitor, allowing for multiple people to receive alerts and fencing issues to be more efficiently and speedily resolved.
Zareba is offering farmers who purchase an Intelligizer Fence Monitor the first year of cellular monitoring service free of charge. Afterward, the annual cost is only $29.99. Moreover, customers can be confident in their purchase with the knowledge all Intelligizers come with a 30-day satisfaction guarantee and three-year product warranty.
With the Intelligizer Fence Monitor, fencing managers can protect their investment and rest assured knowing their animals and fences are safer and more secure than ever before.
For more information on the Intelligizer Fence Monitor and to purchase the product, visit www.zarebasystems.com/intelligizer