Zareba® Electric Fence Warning Signs - 1-Pack - All Questions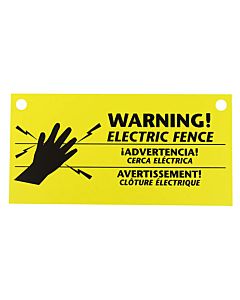 Zareba® Electric Fence Warning Signs - 1-Pack
What are the dimensions of this sign
Question by: Robert Cole on Jun 14, 2018, 8:00 PM
The depth of this sign is .10 inches, the width is 4.50 inches and the height is 10.40 inches (approximately).
Answer by: Woodstream (Admin) on Jun 18, 2018, 8:00 PM
Is this sign metal or plastic?
Question by: Sidney E. Post on Apr 3, 2021, 8:00 PM
This product is made out of plastic. They are UV protected to resist weathering.
Answer by: Woodstream (Admin) on Apr 4, 2021, 8:00 PM