Zareba® ThoroughBraid 7 Strand Heavy-Duty Polybraid - 600 Feet - All Questions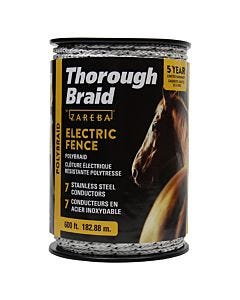 Zareba® ThoroughBraid 7 Strand Heavy-Duty Polybraid - 600 Feet
what is the diameter ? i mean good grief cant even get your own specs on your own websight right; maybe fire that person and hire me.... point 25 mm ? really ?
Question by: Joseph Ford on Dec 29, 2021, 12:36 AM
The thickness for this product is .25 mm.
Answer by: Brandon Deleon on Dec 29, 2021, 9:04 AM
Hello, is there a guide for post spacing for this fencing? Is it comparable to electrobraid?
Question by: Morgan on Dec 31, 2021, 12:23 PM
Answer by: Lauren Steiner on Jan 3, 2022, 9:36 AM