White Step-In Fence Post - 1-Pack
White Step-In Fence Post - 1-Pack
7
4.8
5
1
Earn 80 rewards points on your purchase! Learn More
Step-in white fence post (39 inches exposed above ground)
Clips hold electric fence wire and polytape (up to 2 inches wide)
Molded from reinforced polypropylene with a heavy-duty steel stake
Features large step-in flange and anti-rotation spike to keep stake from turning
Also used for gardening, boundary line markings, crowd control and more
Not designed for permanent use
Zareba® White Step In Post
With Zareba® White Step-In Fence Posts, quickly set up fencing in any outdoor area. Set up your fence perimeter by installing these fence posts and then run your fence line between them. While Zareba® designed these posts with electric fencing in mind, they can also be used for setting up perimeters for crowd control, construction zones and property marking. They can even hold decorations or serve as vegetable or plant stakes. Constructed with durable polypropylene and steel, Zareba® built these fence posts to last while being easy to install and remove. For ease of use and reliability, each post features a step-in flange that includes an anti-rotation spike. With eight molded clips, each step-in post can hold fence line at multiple points along its height providing the ultimate in adaptability.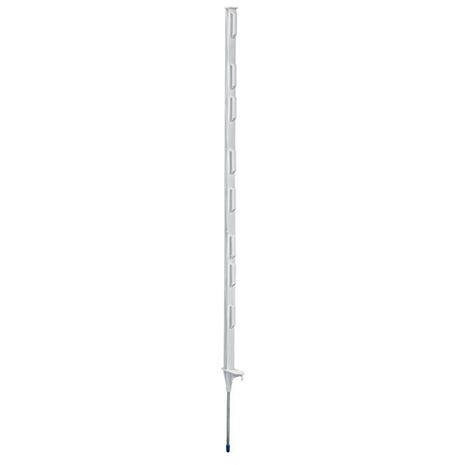 Best Used For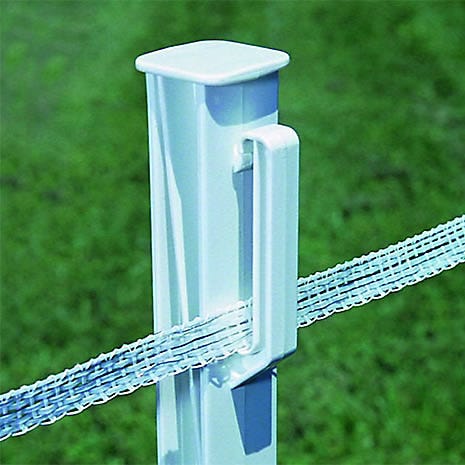 Insulated Fence Post
Using durable polypropylene that's been reinforced with a ribbed, steel I-beam, these temporary fence posts are the strongest poly post on the market. Not only is the polypropylene UV-resistant, each post is also completely molded as one piece, adding to its strength. The result is a sturdy, reliable fence post.
8 Clips for Varied Fence Heights
Each step-in post has eight clips, which allow you to set your fence line to the height you need. These sturdy clips can hold any type of fence line, including polytape, polyrope, polywire, steel wire and aluminum wire. Hang multiple lines or a single line – these fence posts are completely adaptable to your needs. The clips are set at the following heights when measured form the top of the step-in flange. They are:
5.00 in
9.50 in
12.50 in
17.45 in
21.45 in
26.75 in
30.10 in
35.25 in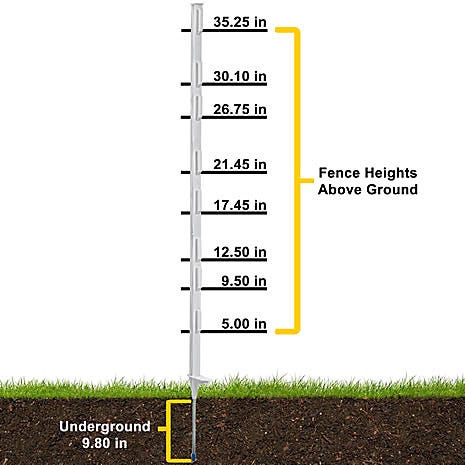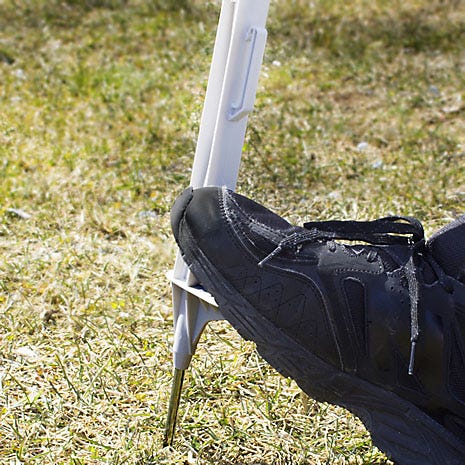 Easy & Secure Installation
Installing each fence post is easy. With its steel-tip base, just pick your post's location and guide it into the ground. Then make a quick push with your foot on the step-in flange and it is set firmly in place. The post will remain secure and hold its place thanks to the built-in anti-rotation spike.
Multiple Fence Post Uses
Your step-in posts have multiple uses. Most importantly, they are designed to hold electric fencing line and are perfectly suited to hold polytape, polywire, polyrope or wire. They can also be used to set up construction zone netting, as crowd control fencing, to mark property perimeters, to hold light-strings for Christmas decorations and even as a plant stakes.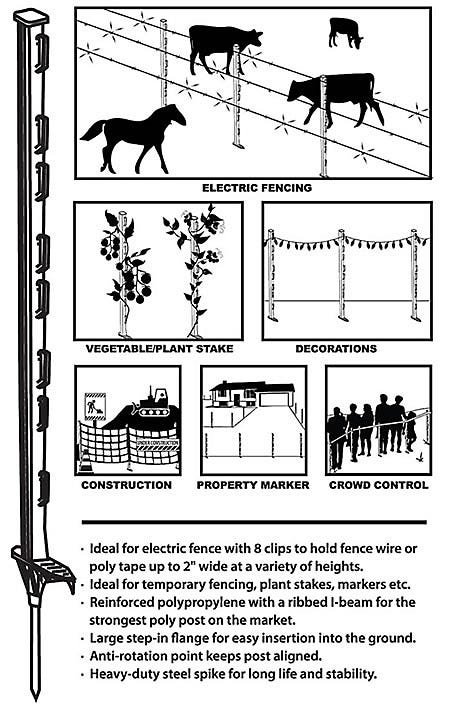 WARNING: This product can expose you to chemicals including chromium, which is known to the State of California to cause birth defects or other reproductive harm. For more information go to www.P65Warnings.ca.govwww.P65Warnings.ca.gov.
Zareba® Step-In Fence Post
Model #
A-48
Materials
Polypropylene and Stainless Steel Spike
Color
White
Height
4 ft total (38.2 inches above ground)
Clip Heights

5 in
9.5 in
12.5 in
17.45 in
21.45
26.75
30.1 in
35.25
Customer Reviews
0%
of customers
recommend this product