ElectroBraid® Partners with A Home for Every Horse
ElectroBraid® has teamed up with A Home for Every Horse for 2016 to collaborate and network with over 600 different 501(c)(3) horse rescue groups across the country.
Through this network of rescue groups, ElectroBraid® will be able to give donations and discounts to non-profit groups who are in need of assistance. Groups in need may receive discounts on fencing supplies or receive a donation of fencing materials from ElectroBraid®.
ElectroBraid® joins other sponsors, Purina, WeatherBeeta, Unwanted Horse Coalition, Tractor Supply Co. and Zoetis, who all firmly believe in supporting the mission of A Home for Every Horse.
Created in 2011, A Home for Every Horse is the result of the partnership between the Equine Network and The American Horse Council's Unwanted Horse Coalition. According to their mission statement, they aim to help rescue organizations find forever homes for the over 170,000 homeless horses in need of shelter and care. They are also committed to providing education to the equine industry about the plight of homeless horses.
The A Home for Every Horse program assists in connecting rescue horses with people looking for horses. Rescue organizations are able to list their horses for free on Equine.com to be seen by 300,000 visitors each month. Rescue organizations involved are provided with many benefits, including access to a network of people all over the country looking to help with monetary donations, volunteering and donations of supplies.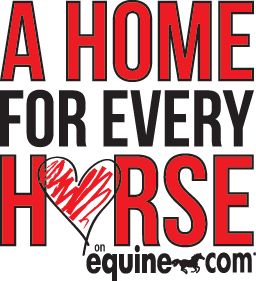 They also have developed the Equine Comeback Challenge, designed to provide training to horses in need. Horses receive full time training with experienced trainers, learning new job skills or honing old talents. This training gives horses a chance to show their abilities, making them more likely to obtain a forever home. These horses, along with their trainer, will complete a 90 day transformation process which is showcased nationally.
Over 1,000 horses are adopted annually through A Home for Every Horse and many others will receive assistance from sponsors. Many equine rescue organizations are overwhelmed with the costs of taking care of the population of homeless horses and this program provides much needed relief.
A Home for Every Horse is just one of over 200 non-profits that ElectroBraid® has aided since 2000. Non-profits supported by ElectroBraid® have included therapeutic riding centers, juvenile probation departments, equine assisted experiential learning and psychotherapy programs, children and adults with disabilities as well as wounded military personnel and veterans. Support to these organizations has included discounted or donated fencing supplies and accessories.
If you would like more information on rescue horses or to locate a horse or rescue near you, head to AHomeForEveryHorse.com. Here you can search for rescue horses in your area, resources for veterinary care and general information on the care of horses.

If you are interested in learning more about our non-profit program, please visit our non-profit page. Have your fence needs at-the-ready by using our fence planning calculator! Be sure to also follow ElectroBraid® on Facebook.