Zareba® 75 Mile AC Powered Low Impedance Charger - 1-Pack
Zareba® 75 Mile AC Powered Low Impedance Charger - 1-Pack
10
4.9
5
1
Earn 5180 rewards points on your purchase! Learn More
Controls most types of animals including horses, cows, pigs, goats, bull and exotic animals
Heavy weed conditions
115-volt, 60 cycle, pulsed output (1-second intervals), 4-joule output at 75-ohm
Use with all types of fences including high tensile, polywire and polytape
Helps keep out rabbits, skunks, woodchucks and raccoons
Zareba® 75 Mile AC Powered Low Impedance Electric Fence Charger
Does your pasture and fence line develop tall weeds through the growing season? This 4 Joule Zareba® plug-in fence energizer will power through that vegetation to help contain your animals. Use the Zareba® 75 Mile AC Low Impedance Fence Charger to contain livestock inside your fence and keep unwanted wildlife out. This fence energizer can be connected to any electric fencing, including high-tensile wire, polywire and polytape. Features include moisture-resistant internal components, a fuseless design, a rugged, weather-resistant case and a pulse indicator light. This energizer comes with a 2-year warranty that includes protection from damage caused by lightning. Qualify for a free 1-year extension to the warranty when you register your new fence charger online.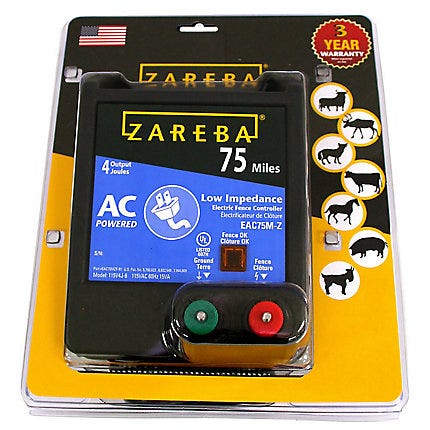 Charger Distance Ratings
Your charger's effectiveness depends on a number of factors, and one of them is the type of fence line you have installed. Steel wire is the most conductive, so it offers the longest electrifiable distance
ZAREBA® 75 MILE ELECTRIC FENCE CHARGER DISTANCE RATINGS
NO WEEDS
LIGHT WEEDS
HEAVY WEEDS
STEEL WIRE
75 miles
37.5 miles
18.75 miles
POLYWIRE
37.5 miles
18.75 miles
9.375 miles
Animals Controlled
Your Zareba® electric fence charger can be used in conjunction with electric fence lines to successfully contain or exclude a number of animal types, including bulls, cattle, exotics, goats, horses and pigs. While this plug-in charger will contain your animals, it can also be used to exclude predators, pests animals and other unwanted wildlife.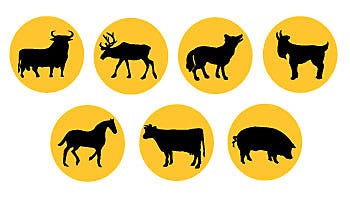 "I am so happy with this charger. It is doing one heck of a job. Would buy another for sure! Keep up the great work!"
AC-Powered Electric Fencing
To power your EAC75M-Z, plug it into a standard 2-prong electrical outlet. Since your energizer requires an electrical connection, be sure to protect the energizer and the electrical outlet from severe weather appropriately sheltering them.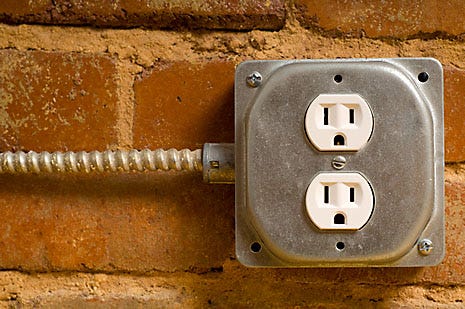 AC Charger Installation Guide
All plug-in electric fence chargers must be located near an electrical outlet and mounted in a sheltered location. Don't forget that all electric fence systems require a corresponding ground-rod system.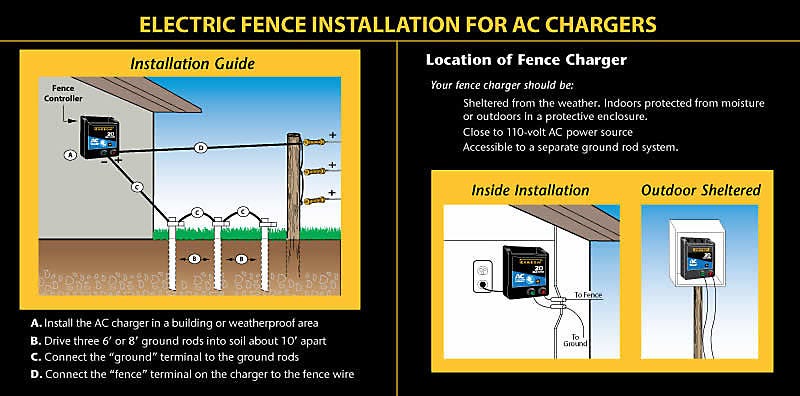 Your charger includes a number of features to make installation easy including:
Hanging holes built into the heavy-duty case.
Brass wingnuts for easy wire connections.
Two-prong power cord to plug the charger into any outlet.
Power indicator light to immediately broadcast charger status.
Video Tips: Installing Your Charger
Installing your AC electric fence charger is simple, and we outline the procedure in this video. Be sure to consult your Zareba® instruction manual prior to the installation.
Zareba® 75 Mile AC Powered Charger Product Details
Interested in learning more about the 75 Miler from Zareba®? Take a closer look at the in-depth specifications for this product.
Zareba® 75 Mile AC Powered Low Impedance Electric Fence Charger
Model #
EAC75M-Z
Output Energy
4 Joules
Power Source
AC Plug-in
Volts
115 Volts
Animal Control
Bulls, cattle, exotics, goats, horses, pigs and predators
Tools & Helpful Accessories for Your Charger
Your electric fence charger isn't the only piece of your fence system. You'll need several components and accessories to get your fence into full operation. Check out these items.

Zareba® offers insulators to match the post and line of your choice.

Electric fence testers can help you find problems on your fence line.

A proper ground rod system is required for your fence operation.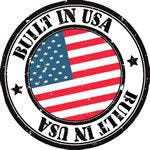 Proudly Built in the USA
This Zareba® fence charger is assembled and packaged at our facility in Tennessee. Zareba® is honored to employ the American workers who construct, test and package our products.

WARNING: This product can expose you to chemicals including lead and lead compounds, which are known to the State of California to cause birth defects or other reproductive harm. For more information go to www.P65Warnings.ca.govwww.P65Warnings.ca.gov.
Zareba® 75 Mile AC Low Impedance Energizer
Model #
EAC75M-Z
Power Source
AC
Distance Rating
75 miles
Do you have power consumption information for the Zareba 75 mile A.C. Fence charger?
Question by: Lewis Stoll on Jun 30, 2017, 8:00 PM
This energizer uses approximately 5 watts per hour. It has an amp draw of less than 1.0 amps.
Answer by: Woodstream (Admin) on Jul 13, 2017, 8:00 PM
We're fencing only 1 acre but we need to keep pigs in. Will this controller hurt my dog if she touches it?
Question by: Lizz on Oct 6, 2018, 8:00 PM
When the energizer is in use, any animal that comes in contact with the fence will receive a shock. We do not recommend using this product around animals that are less than 15 lbs.
Answer by: Woodstream (Admin) on Oct 7, 2018, 8:00 PM
Does this have a reset button after being tripped by lightening
Question by: jjj on Jun 7, 2021, 8:00 PM
This charger does not have a reset button.
Answer by: Woodstream (Admin) on Jun 8, 2021, 8:00 PM
How far from my barn elec panel ground rod should the charger ground rod(s) be? Is there any feedback into the ground rods either when the charger pulses or the wire is touched?
Question by: Steve on Jan 24, 2022, 10:48 AM
Please provide us with images of your setup and we would be happy to assist you with placement!
Answer by: Brandon Deleon on Jan 24, 2022, 12:10 PM
When I test the fence that this charger is attached to, how many kV should it be reading?
Question by: Andrew Bollinger on Oct 19, 2017, 8:00 PM
Without any wires attached to the fence energizer, this charger will put out 10,900 volts. When a load is attached, the output on the fence line should be anywhere from anywhere from 8,720 volts (8.7kv) to 13,080 volts (13.1kv).
Answer by: Woodstream (Admin) on Oct 20, 2017, 8:00 PM