Why Should Polytape be Used for Horses?
In standard electric fencing applications, a "conductor" carries a charge (or correction) from the fence controller around the length of the fence. Polytape has specially engineered conductors designed for the unique control needs and vision limitations of horses. Because of the structure of a horse's head, their depth perception is somewhat limited. They can have difficulty seeing a single strand of metal conductor, which is necessary for the animal to associate the correction with the fence. Fi-Shock and Zareba Polytape, as the name implies, is made of a nylon woven tape with stainless steel conductors woven in widths ranging from ½" to 2", with the wider tape being more visible and recognizable to the animal.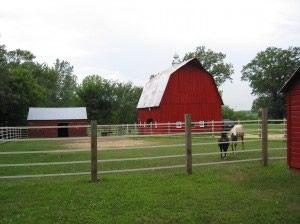 Not only is vision and association a factor, safety is also a prime concern. Polytape fences are much more forgiving when a horse hits the fence in panicked flight. Lengths of tape are joined with splices that pull apart and are less likely to entangle or otherwise injure the animal. Polytape installs as any fence conductor, but be warned special insulators and connecting hardware is needed to properly build a sound fence.
Polytape fencing is a psychological barrier and should NEVER be used as a perimeter fence system. Its application is to train horses to stay off conventional fences and to control the range within the physical boundary of the perimeter fence (Woven Wire or High-Tensile). It is a great cure for "cribbing". When it is properly installed with a low-impedance energizer, I guarantee they will only wrap their lips around it one time.