T-posts are great to use when mounting a fence – they are strong, sturdy and last for years. Zareba Systems, however, realized they could be much more than that. Our new line of T-Post Brackets gives ranchers, farmers, construction site managers and homeowners an opportunity to transform these steel fence posts into something more.
T-Post Brackets – Made for Horizontal or Vertical Additions to Fence Posts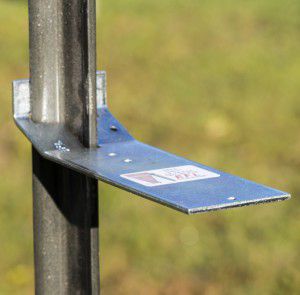 Zareba® T-Post Brackets are available as a horizontal or vertical mount. Simply slide these brackets over the top of a T-Post and lock into place. From there, you can attach any number of objects on these patent-pending, solid steel brackets thanks to their pre-drilled mounting holes.
Horizontal – Slide this bracket down your t-post to your preferred height, and then lever it downward to lock it into place. With that set, it's easy to attach items to its long mounting tab, which runs perpendicular to the t-post via any of its three pre-drilled holes.
Vertical – After sliding this into place, this bracket uses the same levering action to lock it in place as the horizontal bracket. Once it's at the right height, it offers a mounting tab that hangs parallel with the t-post.
By the Dozen – Got big plans for T-Post Brackets? Both the horizontal T-Post Brackets and vertical T-Post Brackets are available in packs of a dozen!
What Can You Mount with a T-Post Bracket?
With their simple design and ease of use, these T-Post Brackets have tremendous utility around the yard, farm, ranch or construction site. Use them to mount:
Your Plans for T-Post Brackets
How are you going to be using these T-Post Brackets? We'd love to hear about it. Be sure to tell us the next time you visit Zareba® Systems on Facebook.
You can also learn more about other offerings from Zareba® by subscribing to our E-Newsletter, which is full of great deals and resources for your electric fence and livestock operation.