Zareba® AC Garden Protector Electric Fence Kit - 1-Pack
Zareba® AC Garden Protector Electric Fence Kit - 1-Pack
6
4
5
1
Earn 3440 rewards points on your purchase! Learn More
Garden electric fence repels or contains small animals as desired
Provides a mild shock that is safe to animals and humans
Flexible solution that can be conformed to fit the unique shape of your garden
Charger can be plugged into any standard 110V outlet – no batteries required
Includes a 5 Mile AC Powered Charger, 10 poly fence posts (30 in) with clips, 250 inches of 17-gauge aluminum wire, a 22-inch ground rod with clamp, an electric fence tester, and 3 electric fence warning signs.
One Year Warranty
Zareba® AC Garden Protector Electric Fence Kit
Small nuisance animals such as rabbits, raccoons and squirrels can pose a big threat to your garden. The Zareba® AC Garden Protector Electric Fence Kit is an electric garden fence kit that will deter just about any type of pesky critter before it can ruin all of your hard work. This innovative electric fence is powered by an AC charger that gives the animal a gentle shock if it tries to breach the perimeter, while also conditioning it not to return. You can even utilize our electric garden fence as a training tool to teach your dog, cat or other four-legged pet to stay out of your garden.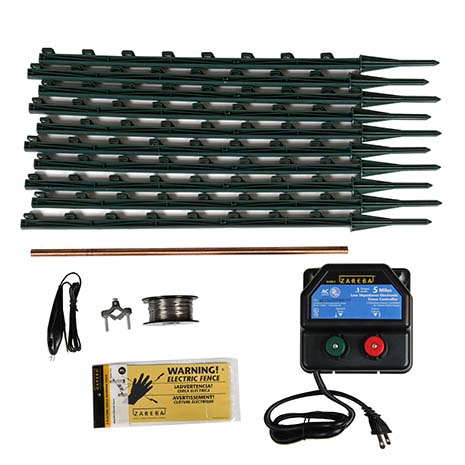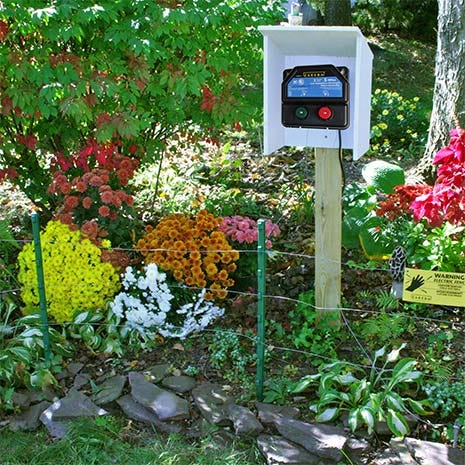 Flexible Placement
One kit can cover a 625-square-foot area (25 foot x 25 foot) using one strand. More strands are needed depending on what animal you are trying to contain or repel. By adding more kits, you can extend the charger's range to one mile. Protect your electric fence charger from the weather by placing it indoors in a moisture-free place, or outdoors in a covered enclosure.
Easy Installation
This kit comes with everything you need, including charger, wire fencing, posts that provide easy wire attachment via clips and a ground rod. The AC charger can be plugged into any standard 110-volt outlet – no batteries required! Setting up your fence is fast and easy with little routine maintenance necessary for upkeep through the season.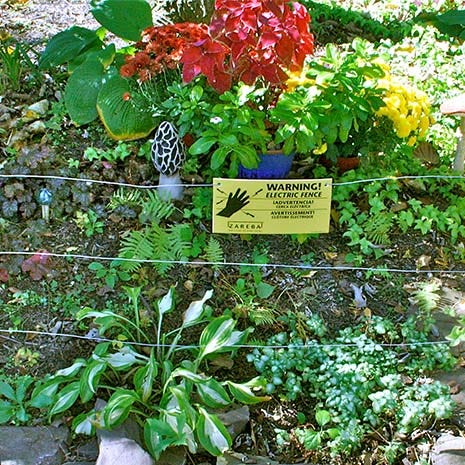 Zareba® AC Garden Protector Electric Fence Kit Product Details
Do you want to know more helpful details about the Zareba® AC Garden Protector Electric Fence Kit? Take a closer look at the in-depth specifications for this product.
Zareba® AC Garden Protector Electric Fence Kit
Model #
KGPAC-Z
Includes

5 Mile AC Powered Charger
(10) 30-inch Poly fence posts with clips
(250 foot) 17-gauge aluminum wire
22-inch ground rod with clamp
Electric Fence Tester
(3) Electric Fence Warning Signs

Recommended Use
Train pets. Keeps unwanted predators out of your property
Range
1 Mile range in ideal conditions with extension kits

WARNING: This product can expose you to chemicals including lead and lead compounds, which are known to the State of California to cause birth defects or other reproductive harm. For more information go to www.P65Warnings.ca.govwww.P65Warnings.ca.gov.
Zareba® AC Garden Protector Electric Fence Kit
Model #
KGPAC-Z
Includes

5 Mile AC Powered Charger
(10) 30-inch Poly fence posts with clips
(250 foot) 17-gauge aluminum wire
22-inch ground rod with clamp
Electric Fence Tester
(3) Electric Fence Warning Signs

Recommended Use
Train pets. Keeps unwanted predators out of your property
Range
1 Mile range in ideal conditions with extension kits
Customer Reviews
0%
of customers
recommend this product