Get to know: The Pygmy Goat
Of all the farm animals we love, there is one that really melts our hearts. The Pygmy Goat is a small breed of domestic goat that is kept for both agriculture and domestic use. Pygmy goats, because of their size, are able to live on farms as well as in urban or suburban settings. Although generally not used for it, the pygmy goat is able to produce a large amount of milk in relation to their size.
The female pygmy goat is called a doe, while the male is referred to as a buck. A doe has a weight range of 50 to 75 pounds, while bucks generally range from 60 to 85 pounds. Both genders have a wither height range of 16 to 23 inches. Pygmy goats are known for their good nature and friendly deposition. They are also very companion oriented and enjoy having a "partner in crime."
Originating from Africa, the Pygmy goat was brought to the U.S. in the 1950s to be showcased in zoos and used in laboratory testing. Because of their attractive personalities, they gained a fondness of private breeders and were populated for use as domesticated animals. Their 10-15 year lifespan makes them wonderful family pets. Check out these cute pygmy goat photos!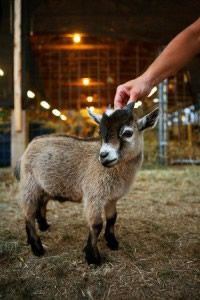 Source: kindness365.wordpress.com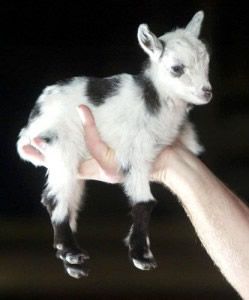 Source: DizzyMaiden.Tumblr.com
Source: www.zooborns.com