OUR BRANDS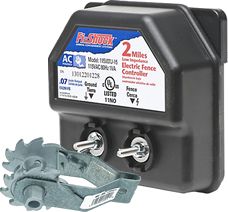 Fi-Shock® Electric Fence Chargers and Electric Fence Accessories
Since 1968, Fi-Shock® has delivered electric fencing to consumers across North America while promising a broad selection of quality products at competitive prices. Fi-Shock® electric fence systems are ideal for farms, pet enclosures and containing a wide variety of livestock, including swine and horses. From hammering the first fence post into place to making the final charger connection, Fi-Shock® has everything you need to assemble your electric fence.
Shop Fi-Shock® Chargers »
Shop Fi-Shock® Insulators »
Shop Fi-Shock® Wire »
Shop Fi-Shock® Polyfence »
Shop Fi-Shock® Accessories »
Why Fi-Shock® Products Are the Right Choice
Fi-Shock® has provided electric fencing for the homeowners, hobby farms and the livestock industry since the 1960s. With that experience, Fi-Shock® has a proven track record for quality products and unparalleled customer service. To maintain that reputation, Fi-Shock® remains focused on its four core values. Read More »
Offer a Broad Selection of Products – With so much variation in how an electric fence can be assembled, it's important to provide a selection of products to match those needs. That's why Fi-Shock® offers so many options – to help you assemble a fence to cover any terrain or contain any animal.
Provide Expertise and Support – Fi-Shock®, along with its sister brands, offers a variety of resources that can assist all of our consumers – from the hobby farmer just starting out to a seasoned farmer who spends all day in the pasture. Fi-Shock® brings you helpful articles on the electric fencing Learning Center, informative videos on YouTube, posts on the Hobby Farm Blog, a dedicated Consumer Care Team, Facebook and our E-Newsletter. If you need help or advice with your electric fence, you'll be able to get it!
Focus on Quality Products – As it has from its founding, Fi-Shock® prides itself in providing the highest quality fence chargers and electric fence supplies. Fi-Shock® offers durable and reliable products that are backed by a worry-free shopping policy. Certain products are also eligible for extended warranties when properly registered.
Continue to Innovate – Fi-Shock® first entered the marketplace with a product called the Fido-Shock, an electric charger designed to keep dogs from knocking over metal trash cans. Since that time it has continued to innovate the animal control and electric fencing market. Rely on Fi-Shock® to keep on top of the latest technology advances while continuing to serve the people who have come to rely on it.
« Show Less